Warlord - Men's Grooming Essentials
Regular price
Sale price
$20.00 USD
Unit price
per
Sale
Sold out
Share
Experience the allure of Hollywood's golden years with Warlord's Dark 30 scent. Featuring robust notes of Madagascar vanilla and hints of oakmoss. This scent will transport you to the dark of night with style and vigor. Feel mysterious and seductive with every whiff of this captivating scent. Perfect for those who appreciate the allure of classic Hollywood and embody the suave, mysterious persona of the era.
Let Dark 30 be your secret weapon for captivating those around you.
Available in 1 oz only.
Benefits:
IMMEDIATELY eliminates itching.
IMMEDIATELY eliminates "beardruff" by hydrating the skin

 

beneath your facial hair.
IMMEDIATELY endows your facial hair with a radiant sheen, soft texture, and an intoxicating scent.
100% Satisfaction Guaranteed!
A portion of your purchase will be donated to St. Jude Children's Research Hospital & K9s For Warriors. 
Ingredients: golden jojoba oil, argan oil, grapeseed oil, sweet almond oil, castor oil, essential and/or fragrance oils
SKU:AA112
View full details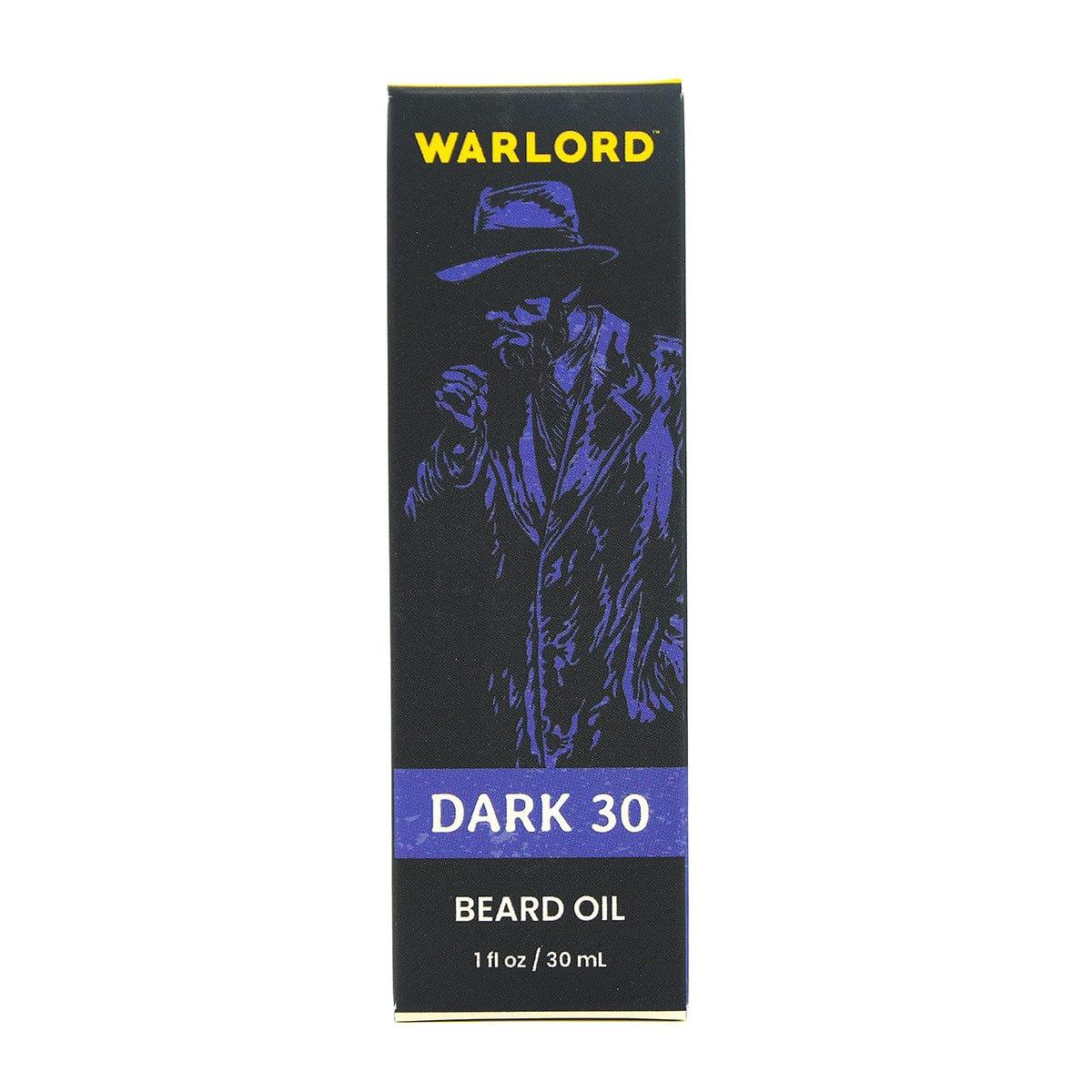 Dark 30
I love the product and the name. I have used this oil for almost two years now and look forward to using it as part of my daily routine. It 100% gets rid of my beardruff and itching.
One of my favorites! Kick ass scent and a kick ass company
One of my favorite scents!! My boyfriend uses it on his beard and I can immediately smell it when he walks in the room! It's truly one of a kind!!
Dark 30, holy moly this is a great one! I thought Southern Tobacco was the bees knees but my guy puts this on, and I have to beat the women off of him. No for realyou won't regret this one!
I shop locally and when I saw this on the shelf I mistakenly thought it was an aftershave balm. Looking at it I realized it was a brushless lotion for shaving. I had neither high hopes nor low ones for this product since I hadn't heard of it or the company before. I used it first with my Supply Pro adjustable injector razor and then a vintage Gillette DE razor with a new Feather blade the next. I used only a preshave soap (PAA Ice Cube if you must know) and no preshave cream like Proraso or Prep as I normally do. Turns out my impulse buy paid off. This is a quality product. The one thing that I love most about this shave lotion - it being brushless - is that it doesn't gum up the razor. No gunk to have to clean out during or the shave after. My Supply Pro has a fair amount of areas that could collect gummy post pass madness but not with this product. Same with the DE. I didn't need to break down the three piece, hold the blade by the tip-top corner, and run super hot water over it then carefully wipe it off like other brushless products. This is a great option for trips and if I was still living the shipboard life and deployed this would be my daily driver cream/lotion. The company is veteran-owned (if that matters to you) and has a good price point. The only negative thing is (and it really isn't a negative since it wasn't promised on the bottle's instructions) it required me to apply additional pumps for my second pass. This is a one pass product if you have a light beard or are satisfied with one pass (as I would be if I was deployed on a ship), but two passes requires additional pumps. But that's the only negative. Will I buy it again? Yes.