Warlord - Men's Grooming Essentials
Regular price
Sale price
$22.00 USD
Unit price
per
Sale
Sold out
Share
Let's face it, our beards and facial hair can get gnarly and unruly, which is why we created Warlord Beard Balm. A heady mix of shea and cocoa butter, waxes, and natural oils, like jojoba, help with density so you can sculpt and tame your beard or facial hair. Warlord Beard Balm will still give you the same amazing nourishment, conditioning and smell you get with Warlord Beard Oil, but with a whip to crack so your beard or facial hair doesn't stray too far to the wild side.
About the 1880 fragrance: Indulge in the allure of 1880, a captivating fragrance that will leave a lasting impression. Picture yourself by a warm fire, savoring a smooth drink and delving into The Art of War. As she passes by, she'll be drawn in by the rich blend of bergamot, tangerine, oak moss, and patchouli. With 1880, you're always in charge of the moment. This sophisticated scent is as smooth as you are, and what happens next, is up to you. Experience the power of 1880 today.
Benefits:
IMMEDIATELY eliminates itching.
IMMEDIATELY eliminates "beardruff" by hydrating the skin

 

beneath your facial hair.
IMMEDIATELY endows your facial hair with a radiant sheen, soft texture, and an intoxicating scent.
100% Satisfaction Guaranteed!

An extra little tidbit: The gentleman featured on all 1880 products is Bud's great grandfather, Bud Hadley. Bud was named after him. 1880 was the year he was born.
Warlord Beard Balm comes in a 2 oz screw top tin.
A portion of your purchase will be donated to St. Jude Children's Research Hospital & K9s For Warriors. 
Ingredients: shea butter, beeswax, cocoa butter, golden jojoba oil, sweet almond oil, essential and/or fragrance oils
SKU:AE102
View full details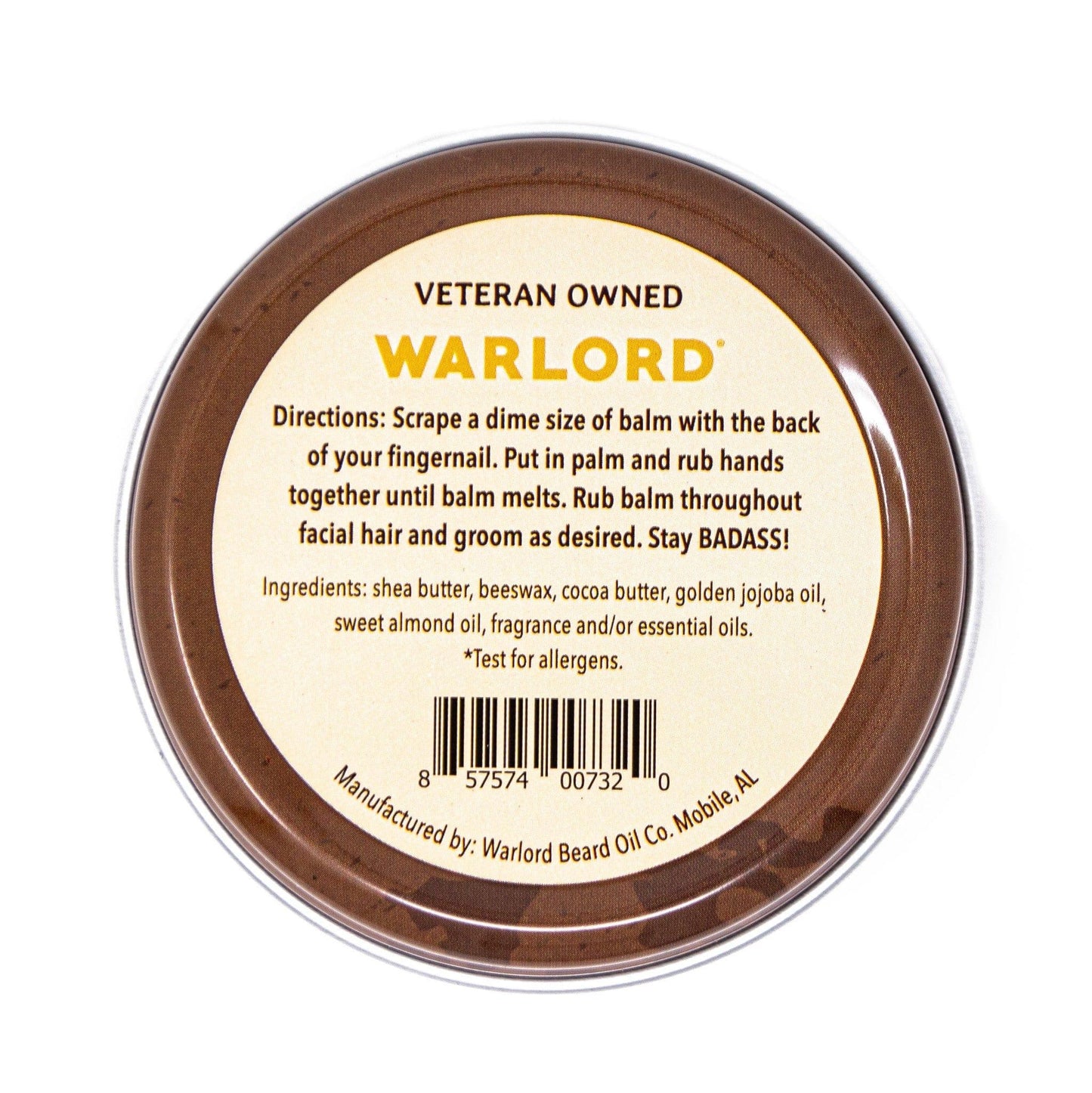 Scent is Horrible
My husband came home with this beard balm after a trip to barber and I could smell him a mile away—not in a good way! The product itself is good. It does a nice job of softening and taming the beard. The downside is the scent—too strong and smells like cheap body spray sold on supermarket shelves.
Hey SW, Thanks for the feedback! We're glad that you like the product itself, but smells like cheap body spray sold on supermarket shelves?? You're breaking our hearts!! Even though your husband didn't purchase directly from us, shoot us an email at contact@warlordbeardoil.com and lets get y'all squared away!
Ladies, this 1880 is the scent you want to get for your man! I am absolutely biased, because we haven't tried the other ones, but when I smelled 1880- that is a sexy smell right there, and I couldn't wait for my hubby to try it! His beard is softer than it has ever been and it smells amazing! Try this and neither of you will be disappointed!
1880 is so sophisticated. Truly the best scent on my boyfriend!
This is the best balm I have ever used and will never go back to anything else